Danni Clews
Role within KHCC Rescue: Care Co-ordinator, Rehoming Manager, Fundraising Manager, Hand-rearer, Fosterer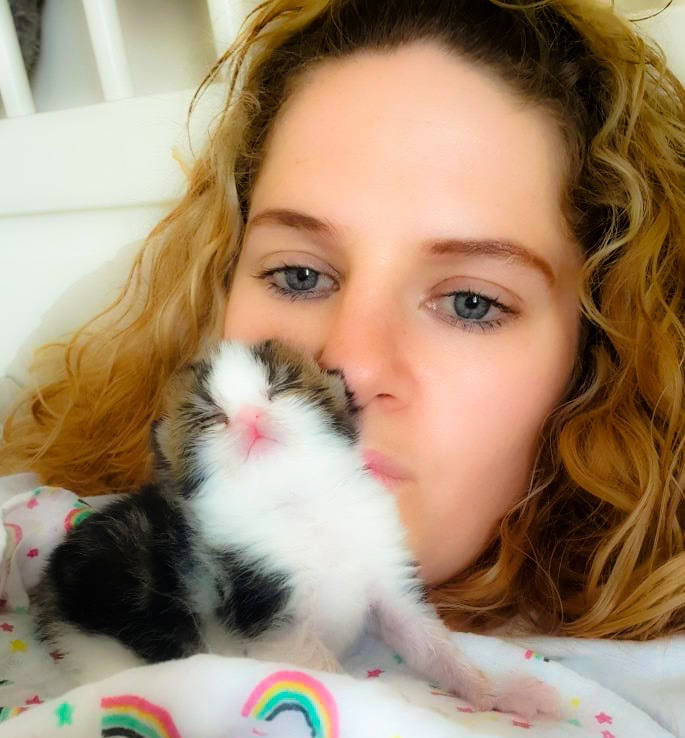 My Fostering Journey
How I got into fostering: I adopted a cat from KHCC back in 2017 (Seamus who is now known as Todd) and became friends with his Foster Mom. I was looking at a volunteer role within a larger cat rescue at the time and she told me I would be a good match to foster for KHCC, I had a meeting with Ali (who you will hear from a little later) and got my first cat within 3 months of adopting Todd.
I started as just a Fosterer but have grown within the club and now help Ali with the daily running of the rescue, which is no small task at all. We are responsible for cats incoming, outgoing and everything in between.
My favourite part of rescue: I love nothing more than seeing a cat grow into themselves, from the shy, timid, scared cats that we get, into the confident happy cats that leave for their forever homes, this makes my heart feel whole.
I especially love the feral cats, they are a true favourite of mine. I have a true respect for them, I love the way they appreciate you and show it in their own special way.
What I don't like about rescue: This one may sound silly but in short KITTENS!! Yes, they're cute and fluffy and adorable BUT I hate that so many cats are going through horrible pregnancies and births, many of them still kittens themselves (we've had 8-month-old cats giving birth)
I take on the handrear babies and sometimes I have to wake up every hour during the night to feed them, my life revolves around these tiny ones, including my work schedule (luckily I have taught my husband how to feed these babies as well so he will always help when I need him to), whilst it is very satisfying watching them grow when they may not have had a chance to, it really can take over your life, and requires an understanding family (and friends!)
Most memorable thing since fostering: Ending up in hospital in my birthday for an operation after being bit by a feral cat (my first feral encounter), will will cover in another section of the website about cat bites and what to do!
The hardest part: Illnesses, anything from cat flu to panleukopenia (feline parvovirus) and everything in between. You have to be so hands on with the cats with any illness, and really give it all to get them through whatever they are suffering with, I've put blood sweat and tears into keeping cats alive who were very, very poorly. But it's so worth it when they get through it.
But when they don't, it hurts, it hurts like you've just lost your own fur kid. The losses will never be easy but there's always some that really do knock you back and make you question why you do this to yourself. I really have to remind myself about the ones I've saved when I feel this way, that's the only thing that keeps me going.
The cats: Of course, I need to mention the cats, I love them, all of them!
It's why I do this, every single cat I've fostered, trapped, picked up off the streets, etc, all have a place in my heart, many of them I don't want to let go, and I want to keep them, but I would have 50 cats by now if I kept keeping them!
I have kept 2 cats (we call these foster fails) Ed and Quill. Ed was a Parvo survivor who I nearly lost so many times! And Quill was in the first litter of kittens to ever be born in my house, neither of which I could let go. Genuinely, all cats matter to me, I wish I could help them all.
What I'd like for the future: In an ideal world the way I'd love to see KHCC Rescue go, is becoming a registered charity (we are starting to put things in place for this), and I'd love to have a property, a proper centre where we could have the cats and where we could build an enclosure for the ferals who have nowhere safe to return to.
This is more of a dream for now, but no-one knows what the future holds.